Profile

Free Account
Created on 2012-11-14 08:25:10 (#1816855), last updated 2012-11-17 (252 weeks ago)
0 comments received, 22 comments posted
1 Journal Entry, 0 Tags, 0 Memories, 15 Icons

About
| | |
| --- | --- |
| Name: | Jefferson |
| Birthdate: | Aug 29, 1983 |
| | |
| | |

Mini Bio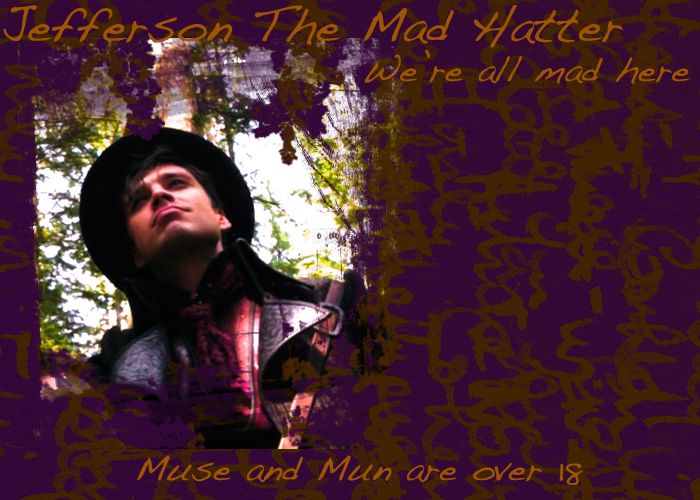 Jefferson is a portal jumper in the Fairy Tale land, and working with Rumpelstiltskin, but after losing his his wife, he gives up the danger life and its riches to raise his daughter. Years down the line the queen comes back into his life playing with his want and need to provide a better life for his daughter, which ends up getting him stuck in wonderland, and his head removed and sewn back on. Needless to say this drives him a little mad along with trying to make a hat that will get him out of Wonderland and home to his daughter Grace.
When the cruse strikes, part of his curse is to remember everything and have to lives in his head which pushes him further into madness and to the point where he will kidnap Emma and Mary to get home and get his life with his daughter back who doesn't remember him, he wont speak to her or tell her, because he doesn't want her to fall into his madness as well.
When the curse in Storybrook is broken, Grace remembers her Papa and starts looking for him Jefferson is hesitant because he feels as though he abandoned her, with a push from Henry he seeks her out and though they are reunited they are still stuck in Storybrook.

Connect

People
[View Entries]

Communities
[View entries]

Member Of (3):

Subscriptions (5):

Administrator Of (1):

Feeds
[View Entries]

Subscriptions (0)

Linking
To link to this user, copy this code:
On Dreamwidth:
Elsewhere: